For the Patients' Benefit
Publication
[Oldenburg University press release]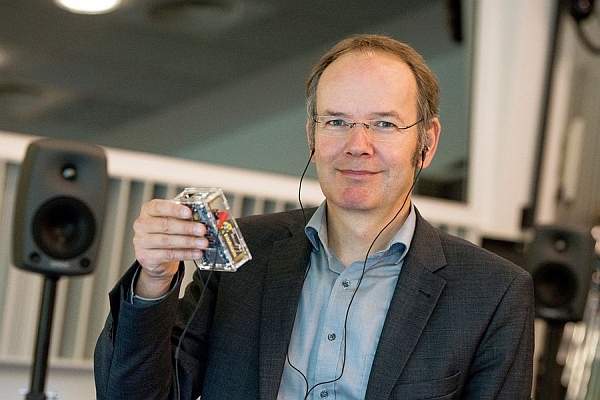 Hearing researcher Prof. Dr. Volker Hohmann. Photo: University of Oldenburg
To strengthen cooperation among hearing researchers worldwide and in this way promote innovation in the field is the goal of a new project at the University of Oldenburg.
A team led by physicist and hearing researcher Prof. Dr. Volker Hohmann is expanding the "Master Hearing Aid" (MHA), an internal software platform for the development of hearing aid algorithms, into an open-source platform. The Master Hearing Aid uses different algorithms to process acoustic signals and combine them into a single complete, simulated hearing aid. Starting next year, hearing experts worldwide will be able to use the platform, on condition that they in turn publish and provide free access to any advances made using it. Professor Hohmann has secured one million US dollars in funding for the project from the National Institutes of Health (NIH), the US national research agency. The funding will be divided equally between the University of Oldenburg and the HörTech Centre of Competence for Hearing Aid System Technology, which was cofounded by the University.
"Ten years of Oldenburg hearing research have gone into the software platform - publicly funded research which we are logically now making accessible to experts worldwide in order to better help people who suffer from hearing loss," said Prof. Dr. Martin Holthaus, Vice President for Research and Transfer at the University of Oldenburg. The fact that in this context the University had secured a prestigious NIH grant for the first time testified to the excellent reputation enjoyed by Oldenburg's hearing research, he added. The University of Oldenburg is currently the only university in northern Germany to have been granted NIH funding.
Professor Hohmann, the principal investigator, describes the project as a "win-win-win situation". If thanks to this broad-based platform hearing aids become more efficient, ultimately patients will benefit most, the hearing researcher pointed out, noting that it is estimated that more than 18 percent of the global population suffers from hearing loss. In addition, hearing research both at the global level and in Oldenburg specifically stand to benefit "because the broad basis is also advantageous for us as it leads to new input, new ideas and new partnerships," Hohmann added. He has also brought an advisor from Silicon Valley into the project who receives an additional 200,000 dollars in funding. Under the title "Open Design Tools for Speech Signal Processing" and parallel to the Oldenburg project, the NIH funds two other US-based research projects as well as three applications-oriented projects with small companies that also focus on research into tools for speech processing.
Hearing researchers at the Medical Physics department in Oldenburg developed and began using their Master Hearing Aid in 2006. "We used it to make all our measurements," Hohmann explained. "We tested our own innovations using this platform and published them on this basis." At first it may seem like a difficult thing for the University and HörTech to open up the MHA as a platform for others to use, handing over a tool that has given them such a lead in the field, Hohmann conceded. "But in the end our primary goal is to help those with impaired hearing."
There will be several options for using the platform, which will run on desktop computers, laptops and even credit-card-sized mini computers - different application levels, from programming algorithms to testing hearing aid signal processing on test subjects. Creating the optimal design for the various levels will be the main task of the coming months - until June 2017, when the first version of the open platform is to be completed.
The project already appears to be generating interest among hearing researchers worldwide: even before it began Hohmann received several requests from laboratories in Canada, the US and England wanting to try out the new platform prior to its launch.
Source: Presse & Kommunikation, Universität Oldenburg